WINONA, Minn. — Saint Mary's University's Department of Fine and Performing Arts is inviting the public to an evening of one-act plays. Two productions — featuring Saint Mary's student actors and designed and directed by Saint Mary's students — will run Thursday through Saturday, Feb. 16-18 in the Studio Theater, located on the second floor of the Performance Center. Pick a night and attend both shows, beginning at 7:30 p.m. Admission is free but seating is limited.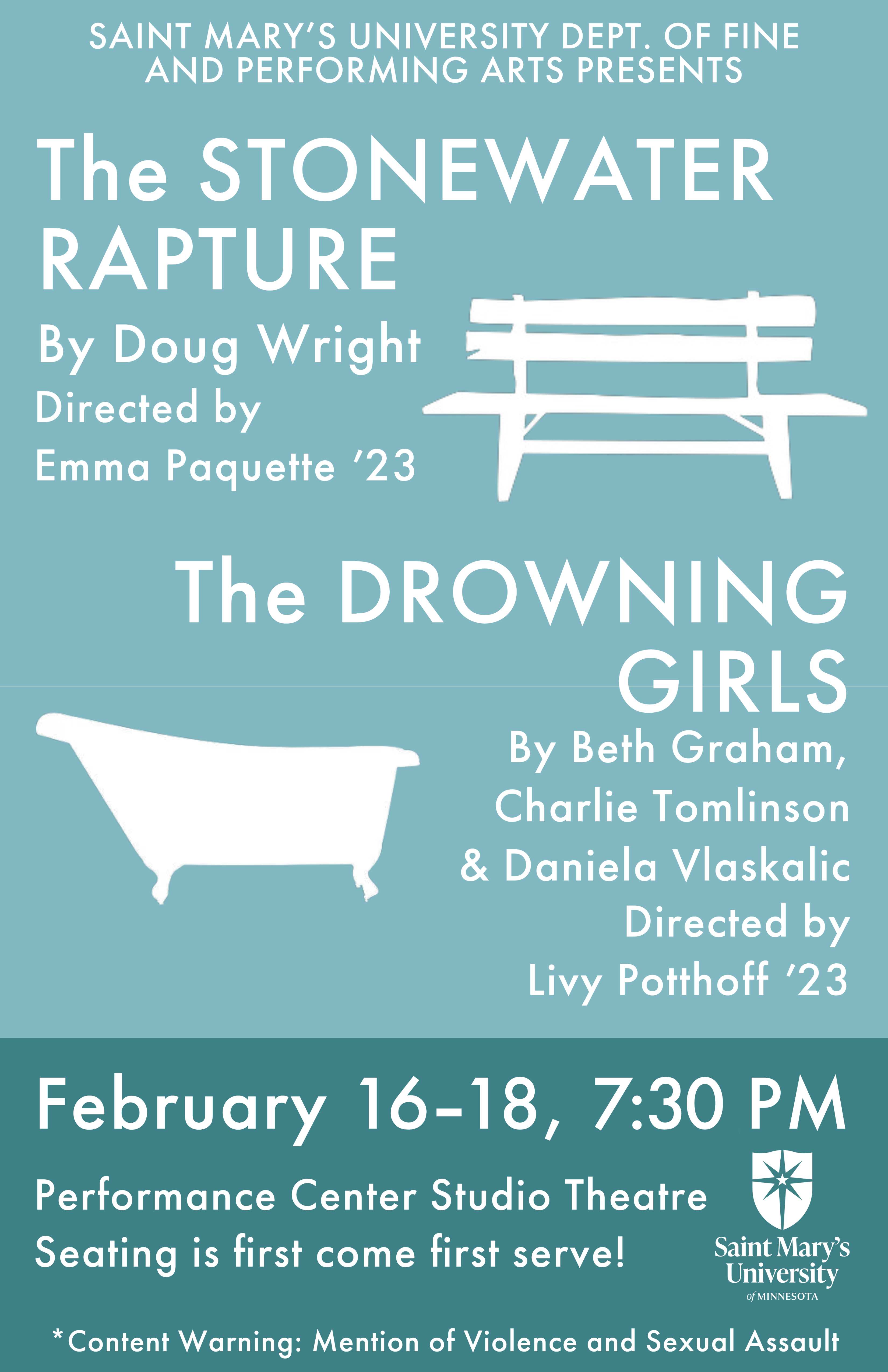 "The Drowning Girls" by Beth Graham, Charlie Tomlinson and Daniela Vlaskalic, directed by senior Livy Potthoff — This haunting play highlights three brides who share two things in common: they all married the same man, and they are all dead. Emerging from the clawfoot bathtubs they were drowned in, Bessie, Alice, and Margaret share the evidence against a murderous man in a chilling ghost story that recounts the shocking crimes. "Reflecting on the misconceptions of love, married life, and the not-so-happily ever after," Playwrights Canada Press writes, "The Drowning Girls is both a breathtaking fantasia and a social critique, full of rich images, a myriad of characters, and lyrical language."
"The Stonewater Rapture" by Doug Wright, directed by senior Emma Paquette — In this poignant and funny emotional journey, we watch as two teens, Carlyle and Whitney, growing up in a conservative Texas town with a big high school football program, grapple with the pain of adolescence, sex, religion, and the pressure of living in a small town. In the second scene, according to dramatists.com, "Carlyle seeks Whitney's help after she has been the victim of a sexual assault. Rather than face the grim reality of her experience, Carlyle transforms the attack from an act of violence to a vision of glory, in which the bodies of her assailants become the angels torn from the Sistine Chapel ceiling, and the alcohol they forced upon her becomes the blood of Christ. As Carlyle's delusions grow, Whitney must convince her of the unfortunate truth. Together they struggle to wed their simplistic religious doctrine with the often painful complexity of the real world."
Mature Content: Mention of violence and sexual assault. Viewer discretion is advised.