This past week, the Saint Mary's University of Minnesota community welcomed its second cohort of religious sisters who are a part of the Latin American Sisters Initiative to the Winona Campus.
The sisters' visit was made possible through the U.S.-Latin American Sisters Exchange Program, a partnership between Catholic Extension and Saint Mary's. As a part of the program, the sisters serve as missionaries in underserved Latino communities across the U.S. while also receiving degrees from Saint Mary's. The first cohort of sisters had a similar visit to campus last November.
The new cohort of 14 sisters enrolled at Saint Mary's is working toward an M.A. in Integrated Studies with a focus on Human Services and Pastoral Studies. With the newest group of sisters joining the program, there is now a total of 56 religious sisters enrolled in the initiative. The first cohort of sisters, which started at Saint Mary's in 2019, had a similar visit to campus last November.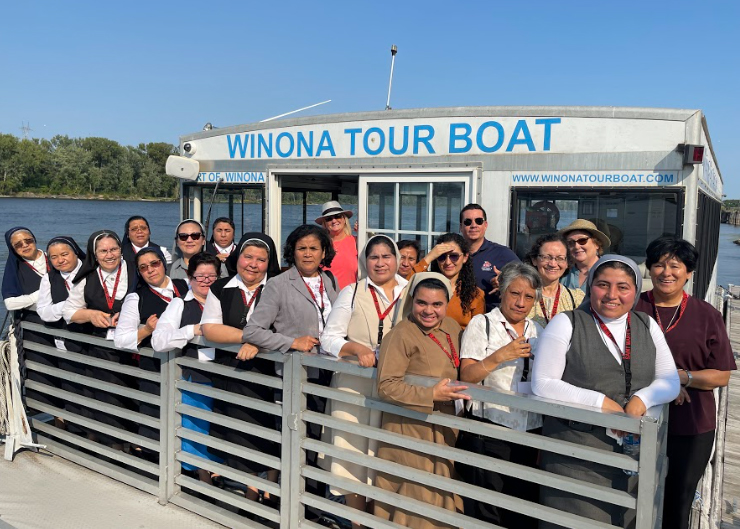 The sisters' visit offered a mix of classroom experiences and opportunities to interact with the Saint Mary's community and take in different sights in the region.
The classroom experience included an Introduction to Integrated Studies taught by Robertolino Vargas, the program director for the Latin American Sisters Initiative, as well as an introduction to the Lasallian Catholic charism, which was taught by Brother Larry Schatz, FSC.
The cohort's visit was also celebrated with a formal dinner attended by Saint Mary's staff, faculty, and administration, as well as representatives from Catholic Extension. During the dinner, the Most. Rev. Robert E. Barron, D.D., S.T.D., Bishop of the Diocese of Winona-Rochester, welcomed the sisters to Winona in a pre-recorded video message.
The trip also allowed the sisters to take in the sights of the region, including a sightseeing boat trip on the Mississippi River and a trip to the Shrine of Our Lady of Guadalupe in La Crosse, Wis.
Susan Jarosak, M.Ed., who helps oversee the Latin American Sisters Initiative, says it was wonderful to welcome the second cohort to Saint Mary's and is pleased to watch the initiative continue to grow.
"This initiative is important to Saint Mary's because we have this very unique, fabulous partnership with a Catholic Extension, and we're meeting the needs of a very unique group. The sisters are so appreciative, and they're so excited about learning. And they want to take what they've learned right back to their mission, which they talk about a lot. So it is a really positive partnership," she said.
Two more cohorts of religious sisters will begin at Saint Mary's in fall 2023.